CFB Comox Military Transfers
Transferring to 19 Wing CFB Comox?
While you are in town for your house hunting trip you are my absolute #1 priority – we can look day and night for your ideal house if need be, and as your realtor I will ensure that I have a generous amount of time set aside for you.
I highly suggest gaining access to the Private Client Services (PCS) home search before you come on a BGRS (formerly Brookfield) house hunting trip. This tool will enable you to educate yourself about our market, as well as ensure that your search is streamlined with the proper criteria, new MLS listings tracker, and the ability to build and edit your own hotlist. Make your house hunting trip an efficient one.
Resources for members of the Canadian Forces who are transferring to 19 Wing CFB Comox with BGRS:
Comox Military Family Resource Centre (MFRC)
Morgan Ebbet Career Services (for spouses)
19 Wing Comox
School District # 71
City of Courtenay
Town of Comox
Comox Airport
WestJet Airlines
As a BGRS realtor for CFB Comox, I have 10+ years of experience helping military families transfer to the Comox Valley. I look forward to helping you out with your move!
DOWNLOAD MY FREE MILITARY RELOCATION PACKAGE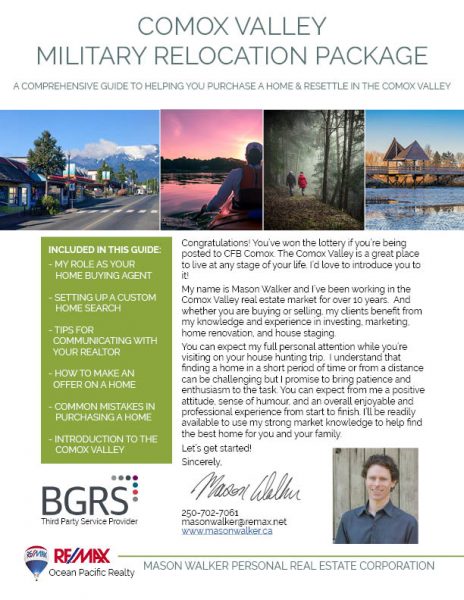 I've created a comprehensive guide to help you resettle in the Comox Valley with
an introduction to the Comox Valley,
how to set-up a custom home search,
tips for communicating with your realtor,
and more!
Download the Package and get started on your home search! We can't wait to have you in the Valley. 
"Dear Mason,
Thank you again for all your hard work and commitment in helping us find our home here in the Comox Valley. Being a military family, we have dealt with many realtors over the years, but none who have shown such dedication as you did. From the house hunting trip, to the negotiations, to the closing, and into the days afterward, you always impressed us. Not only with your dedication, but also with your professionalism, patience, and knowledge, as well.
As we searched for a home within such a short time frame and such a large market, we were at times discouraged and overwhelmed, but your personable approach and positive attitude kept us on track. For everything you've done, we wouldn't hesitate to recommend you to anyone who is either buying or selling a home. We are most grateful to have had you as our realtor."
Our gratitude,
Clint and Meretta Pater